That's what's happening around here!
If you haven't noticed, my blog has gotten a little bit of a facelift! My old layout/look had been hanging around for far too long. It was great there for a while, but over the last few months I got sick of looking at it. Mostly because the pictures in the header were so outdated it was hardly even funny. =P I started this blog a year after we were married and right after Joe enlisted. The design and photos
definitely
reflected that. And since Joe is now an NCO, we've been married for 4 years and have a little one...the blog needed a change.
That said, I owe many, many thanks to Amy from
...And the Adventure Continues
for doing such a great job on the new look. I absolutely
love
it and I think it fits my personality. =) And obviously I'm loving all things chevron lately. Haha! I have a bunch of new pretty things here on the blog, including a NEW button! Wahoo!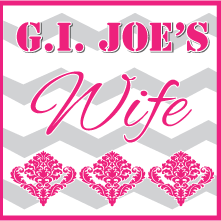 Feel free to grab it from my sidebar (don't just steal the pic, peeps!) and show it off on your blog!
Another new thing I hope will be happening soon is a domain change! I'm going to attempt to purchase my own domain...if I can figure it out. I tried to do it tonight, but Blogger has made some wacky changes in the last week and I am very seriously confused. If anyone wants to walk me through that process, I would really, really appreciate it!
That's really all I've got for now. Just wanted to pop in and let you know what's going on!
Oh, and here's a final reminder about the Thirty-One party I'm hosting. Get your purse/wallet/organizing bag/luggage/super cute bag orders in today! Click
here
to go straight to my party's site and start shopping. =)
Hope y'all are having a fantabulous week!